Fire-baked, Neapolitan Pizza in Elk River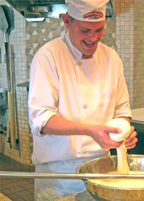 At Pompeii Pizzeria we cook at high-heat for a short time, creating artisan pizzas to please any palate. All our pizzas include Sicilian olive oil, fresh mozzarella, parmesan and sea salt. We stretch mozzarella from curd daily to achieve the best flavor on our pizzas and salads.
Authentic Neapolitan Experience
Our sauce is blended from simple and fresh ingredients singing of brightness and low acidity. Our white pizzas incorporate the finest Creme Fraiche for a unique nutty flavor. Our meats are the finest available and sliced in house. Our list of specialty toppings includes chicken, kalamata olives, artichokes, and fresh garlic.